THANK YOU FOR MAKING SIMIFF 2023 SO SPECIAL AND A WONDERFUL SUCCESS!
At: Studio Movie Grill
Simi Valley Town Center
Sept 17-19 3pm-10pm
Congratulations To The SIMIFF 2023 Winning Films!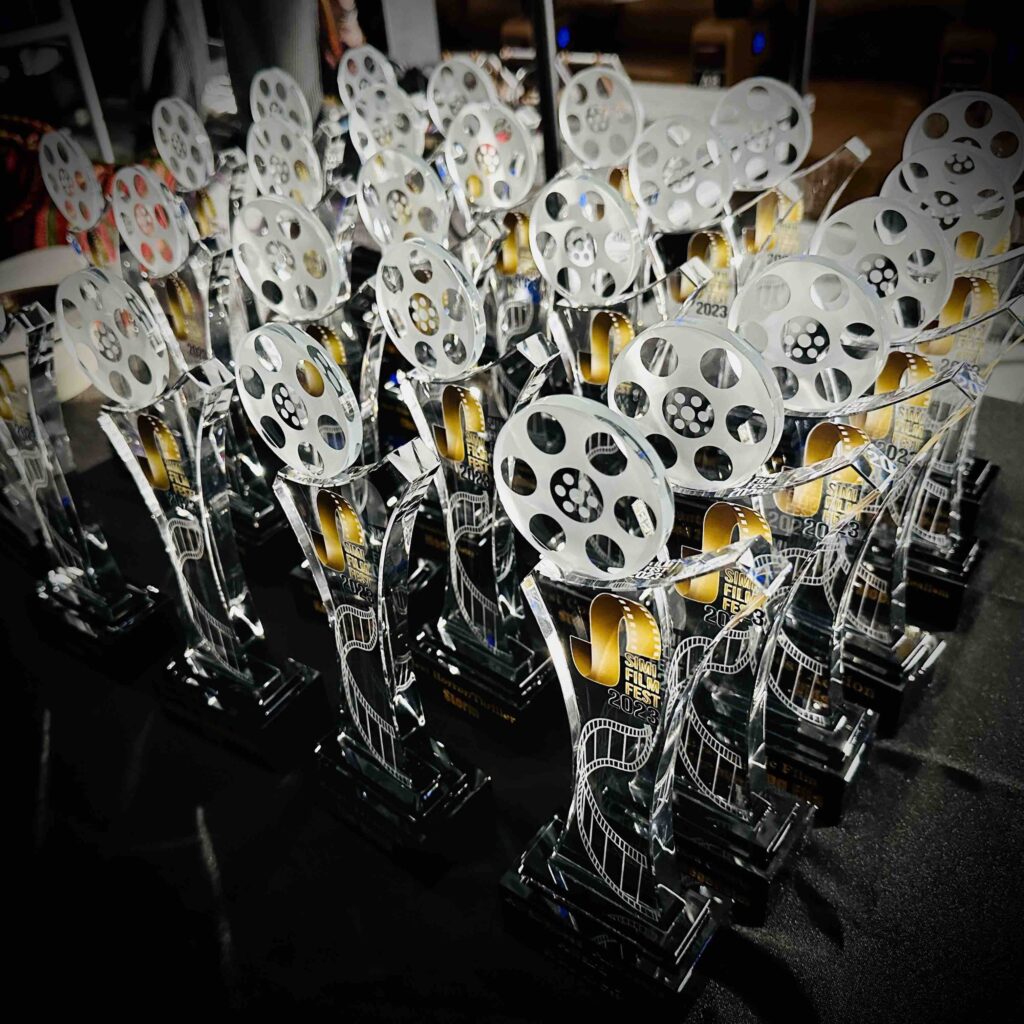 Best Actor
Luke Rex - Bonding
Best Actress
Laura Vandervoort - Age of Dysphoria
Best Supporting Actor
Darren Lipari - Bonding
Best Supporting Actress
Kathryn Erbe - The Bond
Best Director
Jahmil Eady - The Bond
Best Music
Matthew Chilelli - Ball & Vase
Best Music Placement
Choices
Best Visual FX
Storm
Best Writing
Zoe Robyn - Age of Dysphoria
Best Set Design
Vida
Best Cinematography
Andrey Nikolaev - Storm
Best First Time Filmmaker
Annika Hylmö - Dr. Penelope
Best Originality/Creativity
Moon
Best Editing
Kevin Barile - Agent Red 2
Best Stunts
Agent Red 2
Best Makeup & Hair
Lauren McMahon - String
Best Wardrobe
Keren Rosenthal - Vida
Best Comedy
String
Best Horror/Thriller
Storm
Best Drama
The Bond
Best Documentary
The Bright Path
Best Magical Realism
Moon
Best Action
Vida
Best Music Film
Discovering Ella
Best Of Ventura County
Uncommon Negotiator
Awareness Advocacy Award
Why Me!?
Congratulations To The SIMIFF 2023 Selected Filmmakers
The Judges Of SIMIFF 2023 have chosen a variety of excellent films that showcase the talent within multiple genres of filmmaking in the independent world. From Horror to Drama, Thrillers & Sci-fi to Documentaries, From Ukraine to Spain, Canada to USA, Puerto Rico to Hawaii we are proud to showcase them at SIMI Film Fest! Congratulations to the following films, directors and their cast and crews for making movies worthy of being selected to play this year:
459 (dir. Malcolm Bodon)
A Conversation With My Father (dir. Steve Neill)
A Rambling Rose (dir. Jill Bernshouse)
Age of Dysphoria (dir. Jessica Petelle)
Agent Red 2 (dir. Kevin Barile)
American Dream (dir. Angela Garcia Combs)
An Unkept Secret (dir. Joe Koch)
Back Home (dir. Bailey Castle)
Ball & Vase (dir. David Baram)
Between Here and Gone (dir. Sadie Duarte)
Bienvenidos a Los Angeles (dir. Lisa Cole)
Bonding (dir. Luke Rex)
Broken Worlds: The Island (dir. Robyn Flanery)
But Something is There (dir. Steve Neill)
Caught (dir. Halli Lorenzato)
Choices (dir. Kameishia D Wooten)
Convection (dir. Stacey Davis)
Covid Book Club (dir. Kim Furst)
Discovering Ella (dir. Kathi Carey)
Dr. Penelope (dir. Annika Hylmo)
Good Vibrations (dir. Peter Fox)
Halcyon Days (dir. Mark Berbano)
Liminal (dir. Elizabeth Scott)
Moon (dir. Toy Lei)
No Dogs Allowed (dir. Kane Keenan Pilapil)
Penny (dir. Rachel S. Thomas-Medwid)
Senseless (dir. Seth Dacio)
Shelane (dir. Melanie Thompson)
Somewhere (dir. Alexander Craven)
Storm (dir. Lena Tsodykovskaya)
String (dir. Ryan Parsons)
The Amytal Therapy (dir. Valentina Caniglia)
The Bond (dir. Jahmil Eady)
The Bright Path (dir. Iryna Riabenka)
The Dreamtime (dir. Steve Neill)
The Girl Next Door (dir. Donna Wheeler)
The Needle (dir. Casey de Fremery)
This and That (dir. Katie Garibaldi)
Uncommon Negotiator (dir. Brian Glassford)
Undercover (dir. Jake Reardon)
Val-e-ree (dir. Samantha D Lavin)
Vida (dir. Maria Valdez)
Why Me!? (dir. Delores M Flynn)
Sunday 17th Program Schedule:
MONday 18th Program Schedule:
Tuesday 19th Program Schedule:
The excitement is palpable throughout Simi Valley as the entire community comes together to create an unforgettable experience for all attendees. With the steadfast support of the City of Simi Valley and The Simi Valley Chamber of Commerce, local businesses are joining forces to provide SIMIFF guests with the finest offerings the city has to present.
Simi Valley Is Where It's All Happening
How many chances do you get to meet the people behind big productions? Well, here's your chance. Aside from screening a host of quality, independent movies SIMIFF is all about connecting YOU with the professional film industry. Everyone who attends will come away with more knowledge, greater inspiration, and resources to elevate the quality of their next film. Join us at SIMIFF, where you will grow your network, your talent and your future opportunities within the film business.
Learn from industry pioneers and hone your craft with expert panels covering all aspects of filmmaking, including financing, producing, directing, acting, post-production, and more. Seize the opportunity to have 1-1 meetings with top studio executives.
Embark on exclusive studio field trips designed to cater to the needs of independent filmmakers, providing access to facilities that are typically difficult to find. Unlock opportunities to elevate your craft and advance to the next level.
Experience a curated selection of films that showcase the finest talents in local, national, and international cinema, pushing the boundaries and inspiring creativity. Don't miss the opportunity to see the best in independent filmmaking.